Well, color us surprised. When we at the Review lifted our tired eyes to peruse the array of candidates running in the coming ASSU elections, we assumed we'd see little to excite us. As anybody who pays attention knows, the ASSU is little more than a one-party state. A failure to secure an endorsement from the Students of Color Coalition (SOCC) usually results in a failure to be elected at all. In the ranks of student politics, conservatives and libertarians are tantamount an endangered species.
Imagine our delight, then, when we realized that there was a ticket running for the ASSU, for the executive board no less, that embodied the principles of freedom and right-of-center reasonableness that we stand for. Our enthusiasm reached a positive crescendo when we discovered that the two candidates in question, Michael Ocon and Khaled Aounallah, stand a decent chance of becoming elected, having secured the coveted SOCC endorsement.
So it is with great gusto that the Review announces its endorsement of the Khaled/Ocon ticket.
Now, some explanation is in order. You might be reading this thinking: "Khaled/Ocon? Aren't they social justice-y progressive crusaders?" We thought so too. Indeed, an endorsement from SOCC is usually a pretty clear indicator of a malignant presence — kind of the prostate exam of endorsements. But the Review has become aware, through a list of attendees obtained from an anonymous tipster, that Michael Ocon attended a conference for conservative powerhouse Turning Point USA. For those who don't know, Turning Point USA is a youth advocacy group founded by conservative activist Charlie Kirk. As per their website, Turning Point's goal is to "identify, educate, train, and organize students to promote the principles of freedom, free markets, and limited government."
The tipster also alleged — though they were unwilling to provide definitive proof of this — that Ocon had even accepted funding and logistical support from TPUSA. To be entirely clear about the nature of this group: the posters below are just two examples of TPUSA's work, and represent exactly the kind of sentiment we should probably get used to if Khaled and Ocon get elected.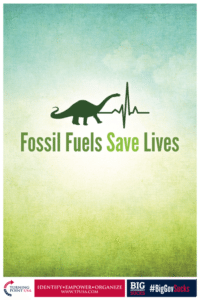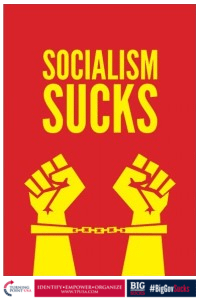 Fossil fuels save lives? Socialism sucks? Wow! We never thought we'd see the day that that sort of spicy rhetoric made its way into the ranks of the ASSU.
We should make it clear: the Khaled/Ocon ticket did not lobby us for this endorsement. In fact, there's no evidence to indicate that they want it at all. But don't worry guys — we've got your backs. If you love liberty, and you want a pair of right-of-center champions to make your voice heard, vote Khaled/Ocon for ASSU exec.