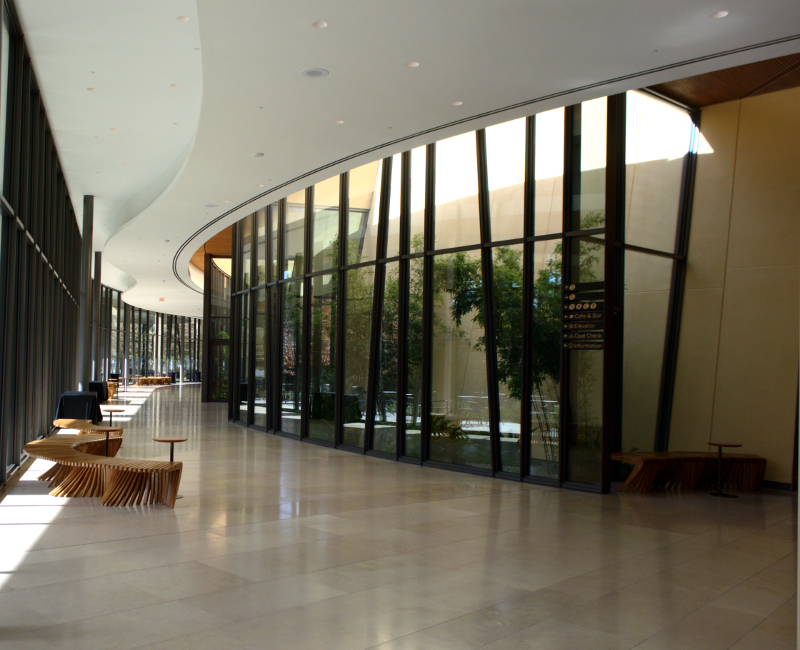 This is the second part of a 2-part article. The first discusses how Bing Concert Hall remains unwelcoming to a wide range of student performance despite Stanford Live's inclusive on-paper mission.
The financial relationship between Stanford Live and Bing Concert Hall leaves the two organizations unmotivated to encourage student attendance to performances and uninspired to reach out to students outside of the music department.
Performing arts venues rely on a combination of outside donations and ticket sales to pay for upkeep and professional staff as well as to fund community outreach and advertising.
In accordance with its mission to unite artists with the Stanford campus, Stanford Live worked together with Bing Auditorium to set aside 20% of tickets for students at a steeply discounted price of $10 a ticket.
According to Wiley Hausam, Executive Director of Stanford Live and Bing Concert Hall, the discounted tickets are extremely popular with Stanford students. "The $10 tickets are always completely used, and sometimes we even have more people who want to get in than we can accommodate."
While fulfilling its goal of sharing and advancing the art of music, Stanford Live has yet to connect Bing Concert Hall with the full Stanford campus.
With 842 seats in the Concert Hall and 20% of ticket sales going to students, undergraduates consistently fill an admirable 170 seats each performance. However, students who typically take advantage of the $10 tickets do not adequately represent the greater Stanford student community.
The majority of students who attend performances at Bing are connected to the Hall through the music or TAPS department, form part of a performance group, or are otherwise already involved with, connected to, and educated about the art of live music.
Asking a group of students at the housing cooperative Terra, I found that the only person in the room who had seen a performance at Bing had learned about it from a donor to the auditorium. The situation is the same throughout the campus; students who attend performances at Bing learn about events in ways other than through Bing's outreach, and most were already familiar with the music department on campus.
Not communicating with students outside the range of the current music and performing arts scene on campus means that Stanford Live has yet to fulfill much of its mission statement.
"We are committed to sharing, celebrating, and advancing the art of live music, dance, theater, and opera. We unite celebrated and emerging artists with the Stanford campus," the mission statement reads. "We value artistic vitality, learning, and an inclusive community."
Actively working to unite performers with the Stanford campus in an inclusive community means reaching out to those currently not included.
Stanford Live does not purposefully ignore these students. As Hausam explains, the organization simply cannot afford to reach out or to include more students:
"In most performing arts venues, the ratio of earned to contributed income is 45% earned to 55% contributed. Here the earned number is much smaller because the hall is so small and the artists are so well known, and so to hold back even more seats for students would require somebody to give us a great deal more money."
Stanford Live has historically valued their mission statement above finances, as evidenced by their original choice to suffer a decreased revenue in order to offer 20% of tickets to students at $10. However, they currently find themselves dissuaded from further reaching out to the undergraduate community by just that – their budget.
The flawed process of advertising to students is one reason that Stanford Live has yet to fulfill their goal of actively involving Bing with the enormous, diverse, and often preoccupied student body.
Hausam describes the ways in which Stanford Live publicizes performances to students: "Sometimes its postering, sometimes its social media, sometimes it's the SLAM group who reach out to their friends and colleagues, and it's ads in the Daily. We are getting really good student attendance at all of our performances. "
According to Stanford Live's self-defined mission statement, the quality of attendance should rest in inclusivity, especially of students yet uneducated in music disciplines, rather than in numbers or seats filled.
One reason Bing has yet to connect with the greater campus community, as last year's Student Ambassador Kasiemobie Udo-okoye points out, is their lagging outreach plan:
"You can't tell me, being on this campus for as long as Bing has, that you haven't figured out email lists. [Stanford Live] really doesn't do that, unless you're on a Bing or Cantor associated email list, you don't know. I wouldn't say it's intentional, just a lack of awareness about what modes of communication students pay attention to and see often."
Stanford Live has, however, seen more success with other less antiquated publicity strategies. By bringing performers specifically aimed at attracting students who are not interested in classical music, they have managed to broaden the range of students involved in Bing events.
Hausam hopes that by bringing in more non-traditional performers such as this year's Jerôme Bell, Phosphorescent, and Jon Batiste and Stay Human, Stanford Live will not only reach out to more students but also further their musical education.
"Basically what you're trying to do is draw them into this world that they may not know," Hausam says. "I think you need to approach people where they are, with what they enjoy, and attract them, and then offer them some other possibilities that they may not know, and then, gradually over time, they may choose new things."
Stanford Live has no financial incentive to sell tickets to a more extensive and representative range of students because they consistently meet their 20% goal of student attendance. At the same time, their position on a University campus and their related and self-articulated mission statement are reasons enough to do a much more effective job of broadening student attendance.
Blasting email lists is just the first step. The identity of our nationally renowned Bing Concert Hall relies on its situation on the Stanford Campus, and to stay true to that identity Stanford Live must reevaluate its current relationship to the student community.