For decades, the Hoover Institution has been recognized as an oasis of conservatism on the increasingly liberal Stanford campus. As a result of its conservative bent, Hoover has been the perfect target for frequent criticism by Stanford's faculty and has had a tenuous relationship with Stanford. However, Stanford may be winning the battle. In recent years, led under Director Condoleezza Rice, the Hoover Institution has ceded ground to Stanford's ideological totalitarianism rather than firmly standing up for conservative values. Hoover has gone woke.
Though the Hoover Institution, a think-tank with the new tagline "Ideas Advancing Freedom", is officially non-partisan, it is known to be widely right-leaning; Hoover's Director, Condoleezza Rice, was the Secretary of State under President George W. Bush, after all. But, in the face of a (greater than usual) left-wing takeover of academia through DEI, restrictions on speech, and a left-wing monopoly on truth, Hoover has fallen victim. Though Hoover's Senior Fellows are divided on the question about whether Hoover should be explicitly right-wing—whether the think-tank should prioritize academic and political activism over research—there is no question that Hoover's recent attempts to repair its relationship with Stanford have cost it some of its ideological independence.
In the past few months, Hoover has leaned face-first into identity politics that promote self-marginalization. On May 24, those on Hoover email lists received an email promoting a Pride Month celebration, "Hoover Pride" (of course, with the woke-er redesigned pride flag), that promises "a chance to hear what Pride means to our Hoover colleagues." At the event, Hoover affiliates will be able to see a pop-up pride exhibition and grab some "Pride Lapel Pins." Though all workplaces should be safe from discrimination, a Hoover-sanctioned workplace celebration of Pride Month is an open indulgence in the identity politics that conservatives should eschew as divisive. An anonymous source close to Hoover added that donors are not happy about the pride event and Hoover's turn towards identity politics broadly.
In addition, Hoover's recent decision to sponsor an Indigenous student seminar this summer signals a significant allocation of resources towards identity politics. Marketed as a seminar to "help Indigenous college students and recent graduates think critically about the interface between federal Indian policy and self-determination," this is yet another example of Hoover using the same language as DEI bureaucrats in their communications. Having a seminar on tribal policy is a completely valid use of resources; a four-day indulgence in ivory tower saviorist policies is not.
The end of April brought a Hoover email anticipating May—Mental Health Awareness Month. The email boasted of then-upcoming events such as "Hoover 101: Session on 'Noticing Your Mental Health'" and a 15-minute chair massage. Though these may seem like harmless workplace perks, mental health has been weaponized as a lackadaisical form of political resistance. Mental health workshops are the gateway drug towards social justice ideology, which worsens general wellbeing by instilling a sense of guilt into the patient. Hoover embracing this trend is a dangerous sign of where the institution is going in the future.    
Thus far, we've seen how the Hoover Institution has pushed progressive ideology onto its staff and Fellows. But, Hoover has also failed in supporting conservative students. The Stanford College Republicans (SCR) often brings speakers to campus—such as Mike Pence, Ben Shapiro, and most recently, Matt Walsh—that promote debate and unorthodox discussions. Despite this purportedly being in line with their mission, the Hoover Institution only scarcely funds these events, if at all. A source from SCR who requested anonymity described Hoover's resistance to bringing in "openly conservative" speakers. Worse yet, he stated that Hoover "refused openly and firmly on funding our lecture with Matt Walsh." Though the Hoover Institution tries to coalesce around "Ideas Advancing Freedom," they refuse to help bring in speakers that would facilitate the discussion of ideas.
Though the Hoover Institution has set up a grant for student organizations, it is seldom advertised and is highly limited. The form is as follows: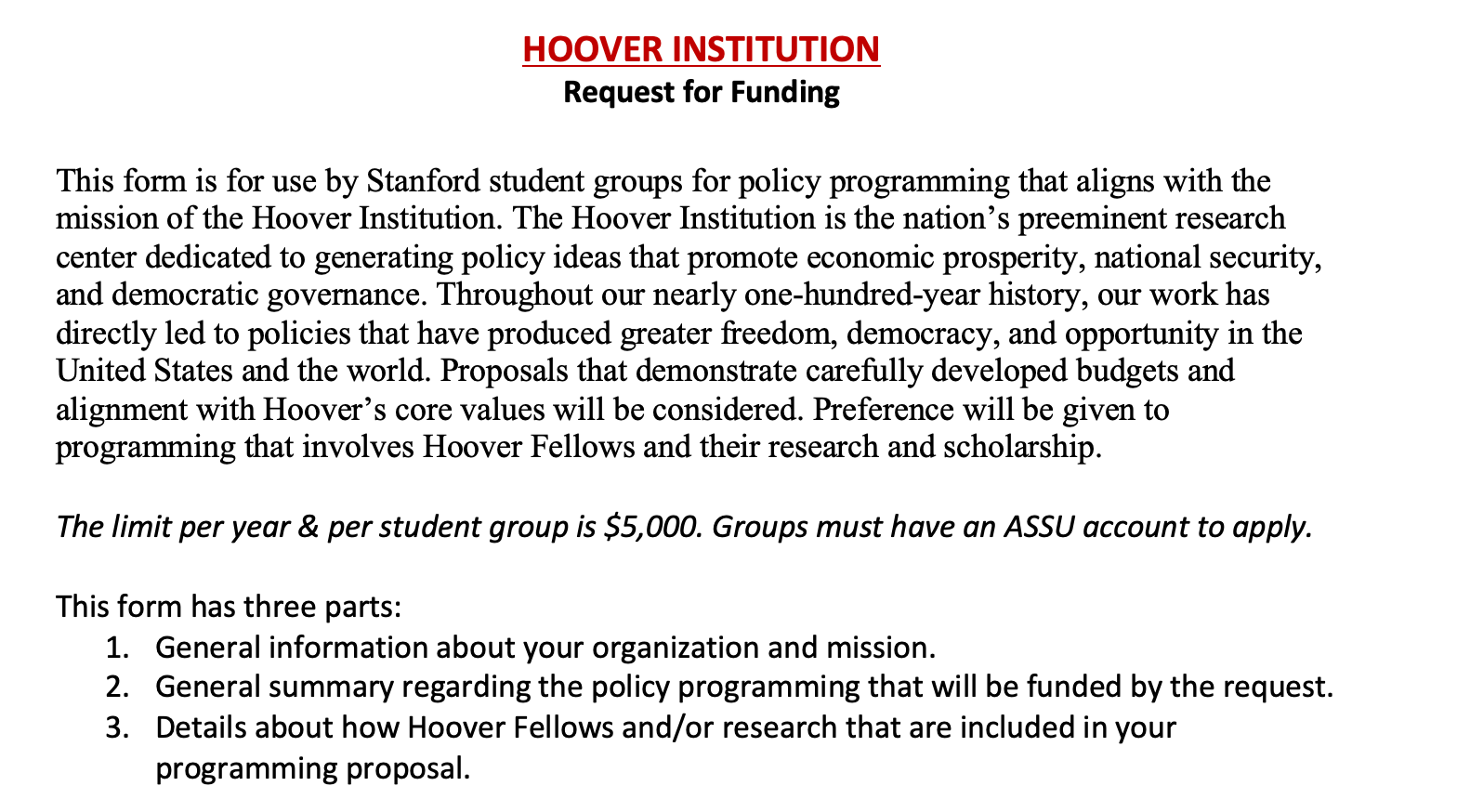 Though $5,000 can go a long way in sponsoring boba nights for various clubs, the grant is for "policy programming." The estimated cost in bringing in Vice President Mike Pence in 2022 was in the ballpark of $17,000, according to the same SCR insider. $5,000 is not even a third of the cost for even one event. Worse yet, bringing in outside speakers is excluded from the preference towards "programming that involves Hoover Fellows and their research and scholarship." This unnamed grant seeks to promote a limited relationship with the Hoover Fellows, rather than pushing for a broader conservative presence on campus. In other words, it's the easy way out.
Though the Hoover Institution is willing to sponsor initiatives tinged with progressive ideology, Hoover is unwilling to sponsor events that should fit within its mission, like last fall's Academic Freedom Conference. Facing resistance from all corners of the university, the Graduate School of Business' Classical Liberalism institute ended up being the primary sponsor of the conference. But, purportedly freedom-loving Hoover was conspicuously missing as an underwriter. The Review has learned that, after some back and forth, Hoover eventually decided to have no role in the conference and denied use of Hoover's facilities. Hoover's refusal to sponsor the event begs the question—why not?
Taken together, these recent developments show a shift in Hoover's priorities away from genuine conservatism and towards the bland liberal conformity that defines college campuses. Hoover is in the worst of both worlds: it is simultaneously promoting liberal values while receiving extreme criticism from liberal critics. Hopefully, Hoover maintains both its administrative and ideological separation from Stanford as it has for over 100 years, but, in the meantime, Hoover Fellows, Hoover's affiliates, and its donors must fight to keep the spirit of Hoover alive. It is essential that those who support the Hoover Institution think critically about how they shape the institutions they choose to support.
This article is the first in a series covering the Hoover Institution's turn leftwards. If you want to stay tuned as details come out, subscribe to the Stanford Review. If you have any relevant information about Hoover, send it to eic@stanfordreview.org. And to support the work we do, make a donation.