I'm Shahab Fadavi and I hate politics. I love policy. Over the past few years, the ASSU has become flooded with an overwhelming amount of a cancerous disease called politics. In brief, I really feel that the ASSU is distanced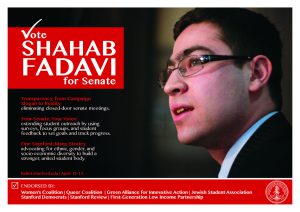 from the greater student body. Early this year, for example, the Senate began holding short meetings closed to reporters before its regular meetings. We must eliminate closed-door (political) Senate meetings and use focus groups, surveys, and student feedback to reach out to students. Ultimately, if the Senate is going to effectively fulfill its purpose, it must invest time and resources into student outreach; governing on student feedback is much more effective than governing based on assumptions.
I'm running for Undergraduate Senate and have made a video for you to get to know me, my passion, and my platform. Check out the video here:
http://www.youtube.com/watch?v=T-Nwz4pp8gI&feature=youtu.be**
**Endorsed by: Stanford Review | Women's Coalition | Queer Coalition | Green Alliance for Innovative Action | Jewish Student Association | Stanford Democrats |  First-Generation Low Income Partnership
PS. Talking about transparency and student outreach: Don't hesitate to send me an email at[ sfadavi@stanford.edu](mailto:sfadavi@stanford.edu) or call me at[ (650) 798-4090](%28650%29%20798-4090) to chat or meet up.