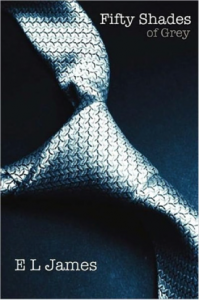 My Facebook newsfeed will never be the same again.  In the last few months, there have been days that my "Top Stories" page included several pictures of extremely good-looking men, accompanied by the captions "Afternoon Delight," "Evening Treat," or "Yum."  The model? Unknown.  Number of likes for the picture? 2,272.  The Facebook page? The 50 Shades of Grey Trilogy.  Number of likes for the page itself? 649,344. The photo's "sharer"? A happily married, middle-aged mother of two.
­­An erotic trilogy by E.L. James, Fifty Shades of Grey has sold over 40 million copies, gripping the attention of women in their twenties and up.  Dubbed "Mommy Porn," the story centers on Anastasia, a college senior and the handsome, young, billionaire entrepreneur Christian Grey.  After a second chance-encounter, the two embark on a sexual relationship; A sexual relationship that requires Ana to sign a non-disclosure agreement and the things outlined within it: practices of bondage, discipline and sadomasochism (BDSM).
I am deeply offended by this book.
Not just because its protagonist—an educated young woman who is about my age—finds absolutely irresistible a man who hits her as they are having sex.  Not just because, as a feminist, I do not like the idea that she willingly takes on a submissive role, essentially becoming another one of Mr. Grey's sex toys that is contractually**forbidden from eating certain foods, making eye contact Grey, and touching Grey in certain areas.  Not just because, as a feminist who also values the dignity of men, I dislike the idea that men around the world have to live up to the standards of sexual performance set by a fictional character who self-describes as "50 shades of f****d up."
What I find most disconcerting is what I will refer to for the rest of this article as the "Fifty Shades phenomenon," whereby tantalizing adventure has become the *sine qua non *of any meaningful sexual experience; "meaningful" as it is understood in popular culture.  This phenomenon is one in which the taboo becomes sexy and is sexy *because *it is taboo.  *Fifty Shades *has not so much caused this phenomenon as it has further engrained it into our sexual culture.
One does not have to look further than the Farm to understand what I am talking about.  Recently, the *Stanford Daily *decided to create a sex column for the purpose of sharing Cardinal "sexcapades" with the Stanford community.  "You might be shy or even inexperienced," the *Daily'*s original column announcement states, "but your ability to choose sexually relevant topics and describe exciting, educational or otherwise entertaining sexual details makes up for what you may lack in bedpost notches."
But what is often exciting and news-worthy, such as the details of people's colorful sex lives, is not always in accordance with what is good or even just healthy.
Last week, for example, the *Daily *published an anonymous, two-part op-ed entitled "Sex Diary: The Cardinal Letter," in which a fellow student recounts her experiences of sexual attraction to a fellow student rumored to have raped two girls.  She feels ashamed by her feelings that our campus culture regards as taboo—she desires someone whom everyone else considers undesirable.  And she is disappointed at the culture which makes her feel ashamed.
The Daily's inability to be discriminating with its content effectively places the same value on all kinds (and amounts) of sexual activity, provided that the articles—and, indirectly, the sex portrayed in those articles—are entertaining and exciting.
Call me ultra-conservative or sexually repressed (nowadays the terms are used interchangeably), but I think sex should be something more than a thrilling and adventurous recreational activity. Sex is the most physically intimate one can be with another person; it is a highly personal act that merits great discretion—discretion with regards to with whom one would choose to have sex and discretion with regards to what one would reveal in a campus newspaper about such deep interpersonal interactions.
In a column that exists to foster—either indirectly or directly—an indiscriminate attitude toward all types of sex, there is no room for the belief in sex as the ultimate physical expression of human love.   There are those who might disagree with me, arguing in favor of the value that adventure, experimentation, and skill can add to any human activity.  Or as Amelia Earhart succinctly put it, "Adventure is worthwhile in itself." Perhaps. Perhaps I could agree that there could be adventure in sex.
To abandon the Fifty Shades phenomenon, to reintroduce dignity, decency, and discretion back into sex at Stanford—perhaps that is the greatest erotic adventure awaiting the Cardinal.